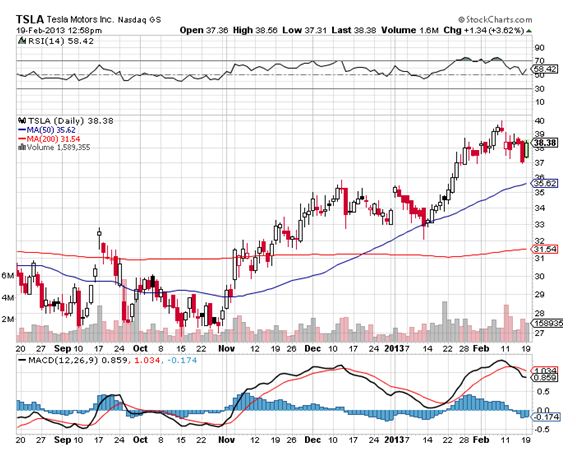 By now, you are all probably well aware of the firestorm that has erupted between Tesla's (TSLA) Elon Musk and theNew York Times.
It started when the groundbreaking California car maker loaned out a high performance Model S for testing of its East Coast supercharger network to theTimes'auto correspondent, John Broder, for a drive from Washington DC to Boston. Broder posted a story that spoke of range anxiety, confused instructions from Tesla, and ended with a picture of a drained S-1 being loaded on to a flatbed truck for return to the company.
Tesla has been down this road before. Two years ago, it lent itsRoadstermodel toTop Gearmagazine for a similar test in England. In the lawsuit that followed it was discovered that the correspondents faked a flat battery on camera by pushing a car down the road that actually had sufficient charge. It turns out that headlines shouting disaster sell more car magazines than success.
Once burned, twice forewarned. Every succeeding car loaned by Tesla to a journalist came equipped with a hidden digital data recorder, much like an aircraft "black box". In theTimesstory it showed that Bradford took unreported detours, didn't fully charge his battery, and frequently enjoyed power draining jackrabbit starts. Musk counter attacked with a blistering blog post that outlined the driver's, and not the car's shortfalls (http://www.teslamotors.com/blog/most-peculiar-test-drive).
Since I am a pilot, former scientist, an occasional writer for theNew York Times, and have a Tesla S-1 performance parked in my garage, I feel uniquely qualified to render an opinion here. TheNew York Timeshas it all wrong, and could well have another Jason Blaire scandal on its hands.
When the rest of the media smelled a rat, they duplicated the experiment with great success. For them, it was a rare opportunity to heap mud on the reputation of the competing NewYork Times. CNBC took the extra step of broadcasting its drive to Boston by reporter Phil LeBeau on live TV.
I have to admit that after sitting on a waiting list for a year, it was with some excitement that I drove to the factory in Fremont, CA to pick up my S-1. The tour was like a trip to the future, with an army of highly animated German made robots precisely assembling the vehicles.
Much of the facility was built from the wreckage of the 2008 auto industry crash. It bought the old GM Corolla factory for a bargain $50 million in stock provided by Toyota. A giant sheet metal press was salvaged from Detroit for scrap metal value of about five cents on the dollar. Today, it employs 2,500, down from the 50,000 GM once needed.
Every car on the assembly line is spoken for. As soon as they are tested they are delivered to beaming new owners in the adjacent show room at the rate of three an hour. There is no inventory. There is virtually no media advertising. It is a business model that any other carmaker would kill for.
The TeslaS-1is unlike any car that I have ever driven. It is a real beast of a machine, taking five passengers up to a hair raising 130 mph. You can feel the G-forces. The operating manual should include a warning in big bold red letters not to kill yourself on the first day. It is basically a street legal Formula One racecar.
When you approach, flush chrome handles pop out from the doors. There is no key or ignition. Sitting in the driver's seat activates the power, and the digital instruments panel flashes on. It also instantly synchs with your iPhone 5, displaying your entire iTunes library and address book on an impressive 18-inch screen. Talk about "wow"!…
See full story on madhedgefundtrader.com